Floor Guide
Mitsubishi Tanabe Pharma Historical Museum is divided into three zones: Doshomachi District Zone, showcasing the company's history and culture and histories of the area where Japanese pharmaceutical business originated. ; the History Zone, featuring a variety of materials and items collected over three centuries; and the Present and Future Zone, focusing on the company's current and future-progressive efforts toward pharmaceutical discovery, post-marketing development , and delivery on an international stage.
Tracing the roots of Mitsubishi Tanabe Pharma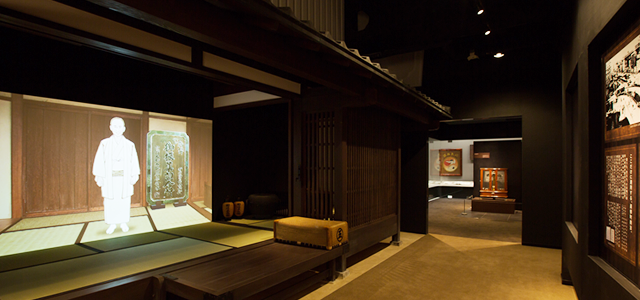 Introducing the history of Doshomachi along with the full-scale reproduction of Tanabeya store in the Meiji period.Visitors will see the lantern placed under the eaves and signs from the era, accompanied by a video of Tanabe Gohei the 12th speaking about the company's roots.

Traveling through the history of Mitsubishi Tanabe Pharma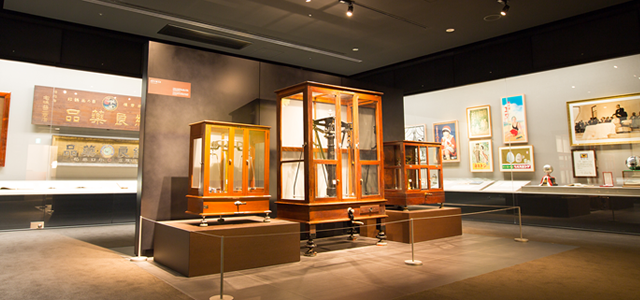 This Zone presents our historical activities, along with collected items from that history. At the end of the Zone, a video offers an overview of our history from the Taisho Period to today, leading visitors to the next Zone: the Present and Future Zone.

Pioneering the Next Age of Mitsubishi Tanabe Pharma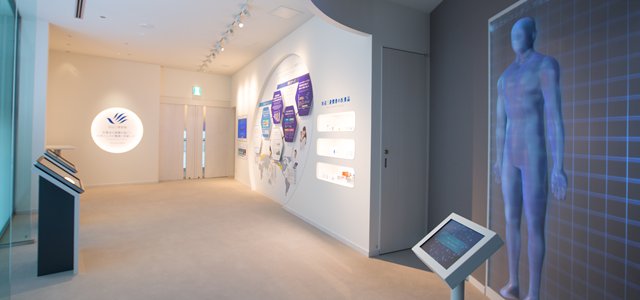 Covering research & development (R&D), post-marketing development, and the close relationship between the body and medicine, this Zone reveals the present and future of Mitsubishi Tanabe Pharma on its journey of over 300 years as a global research-driven pharmaceutical company.

To play audio
Audio Guide

1.Wooden Sign Board

2.Signboard with Imperial sanction

3.Storefront of Tanabeya

4.Statue of Shinnno

5.Standard manual balances

6.Shogunate License

7.Three-way agreement clause

8.Signboard of salicylic acid

9.Copperplate signboard of Hinode Tsuru

10.Medicine Traders Guild register

11.Pcitures of plants in around 1935

12.Deming Prize

13.Baron Koyata Iwasaki's writing

14.Microbalances

15.Original drawing by Kon Shimizu

16.Picture of the Royal Couple

17.Digital chronicle

18.Video Chronicle

19.3D virtual encyclopedia of anatomy

20.Video of Pass the Baton of Drug Creation